Blog Archives
http://bradleybulls.wordpress.com/2011/05/17/the-importance-of-research-in-pr/
If you are anything like me, for some odd, strange reason, you think that everything is just public opinion. That we live in a world that is totally based upon people's opinon and perception. That nothing really has to be factual. Especially in the world of social media. So to sum up my perception of my thoughts EVERYTHING IS ACCORDING TO PEOPLE,'S FEELIN AND PERCEPTION. Well this blog is going to let you know how wrong I am and how research is needed in social media and in public relations..
First it is huge just to be able to know your client. Knowing your client and their background is huge. It could really make the difference in a presentation. Knowing what presentation of what products a certain client turned down could lead to a good guideline on what not to do. Also knowing what things that they have accepted in the past can help in bringing new creative ideas that are spurred from ideas that have already worked. Along with knowing your client, knowing your target audience is huge. Doing research on target audience is probably the most important part of any presentation of public relations. You have to be able to do research on the target audience to be able to captivate the right audience. If you wanted to do an ad for the new jordans coming out you wouldn't get an add on a youtube channel for Dave Chappelle's comedy. The target audience for Jordan's and Dave Chappelle's comedy will be two totally different audiences that have no relation with each other.
Also, another huge importance of doing research in public relations is having correct information. Checking and double checking on a source is a form of doing research. It is relly important that you do research on a source because wrong information can lead to you losing your credibility.
6 Ways to Track the Impact of Social Media on Public Relations
[caption id="" align="alignnone" width="245"]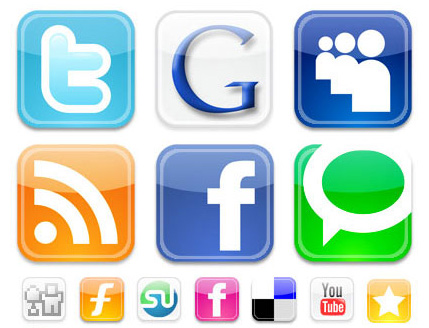 via Web 2 icons[/caption]
Edelman, APCO Worldwide, Ruder Finn, no one know these names off the back of their hands but twitter and facebook are household names. The first three names that were mention are the top three public relations agencies. It is clear that social media sights such as facebook and twitter have had an huge impact on public relation. First off because the convenience. On of the most effective ways of getting a message out there is just tweeting about it and have people retweeting it. You can send a PR message through your phone to twitter and in an instant millions of people can know about it.
It is also cost effective. Who needs to pay for a billboard that may cost a pretty descent amount of money (not saying that using a billboard is not an effective tool of advertising) when it cost absolutely to update a status on facebook or tweet something on twitter. and know that there are always people on twitter or facebook at any given time of the night which means your time to get a message out never ends and you can advertise all day with no cost.
Also through social media you are able to gain information on your target audience. If your target audience is teenagers you are able to the things that teenagers tweet or update their statuses about which gives you insight on what teenagers like these days and how to appeal to them. No longer do you have to take surveys and do extremely out of the ordinary things to catch up with today's youth. What is also awesome about appealing to different audiences through social media is that there is not just one age group on social networks there is wide range of people on today's social networks. The advancement of Public Relations will be through social media.
5 tips to increase Twitter followers
[caption id="" align="alignnone" width="311"]
Indigo Bunting via flickr[/caption]
Around my freshmen year facebook was the chosen site of the Internet. It was rare to find someone who didn't have a facebook account. If they did not have one they were guilted or peer pressured into having one. It seemed as if facebook was never going to even be compared to another site. It knocked myspace out into orbit. Then one day I saw my friend on this weird looking empty site (compared to facebook it was empty looking). I asked what was it and He said twitter. I asked what makes this different from facebook and he said "it makes you feel like a celebrity because the object of it is to get people to follow you. Well how do you do that?
One way to ensure that you gain followers is simply to tweet a descent amount of times throughout the day. No one wants to waste a follow on a person who doesn't tweet. Not tweeting is the quickest way to get unfollowed. Following to follower ratio is pretty big to those who participate on twitter. It shows that they are a person worth following or the things that they say are really interesting.
Also following people back is a pretty quick way and easy way to gain more twitter followers. People on twitter will be quicker to follow someone if they know that they have a guaranteed follow back. It also makes people feel safe by following you knowing that you have the intentions of following them back.
Also a cool and fun way of gaining more followers is just being interactive. Use your hashtags. Its a cool way of seeing if people are tweeting about the same thing that you are. Also have fun tagging people in your status. Interact with the people you follow and the people that follow you. Makes for a better experience for you and your followers. #team follow back